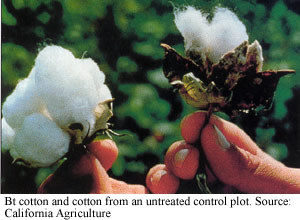 This website is dedicated to understanding the benefits and risks associated with using Bt proteins in farming and using Bt genes in GMO crops to manufacture the natural insecticide. This natural insecticide is produced by the bacterium Bacillus thuringiensis (called "Bt") that has been used for decades by organic farmers to control crop-eating insects and by the World Health Organization to kill mosquitoes without using dangerous chemical pesticides.
There are significant benefits and some risks to using Bt. Explore this website to learn more.
This website is created and maintained by the Aroian lab at UCSD. Our laboratory is interested in learning the basic biology of how crystal proteins work, how resistance develops, and how crystal proteins might be used to control worm parasites of humans, animals, and plants. Please feel free to contact us with your comments and suggestions.